June 4, 2019
2-year 100% warranty now available on Aeolus NEO series tyres
PRESS RELEASE - If you buy Aeolus tyres, you will now receive a 100% warranty for 2 years. Aeolus is the only brand to offer such a warranty in this segment. This means you will be fully reimbursed - irrespective of the cause - if the tyre must be replaced within 2 years. This warranty, together with the casing guarantee and 24/7 roadside assistance, proves the rock solid price/quality ratio of Aeolus tyres.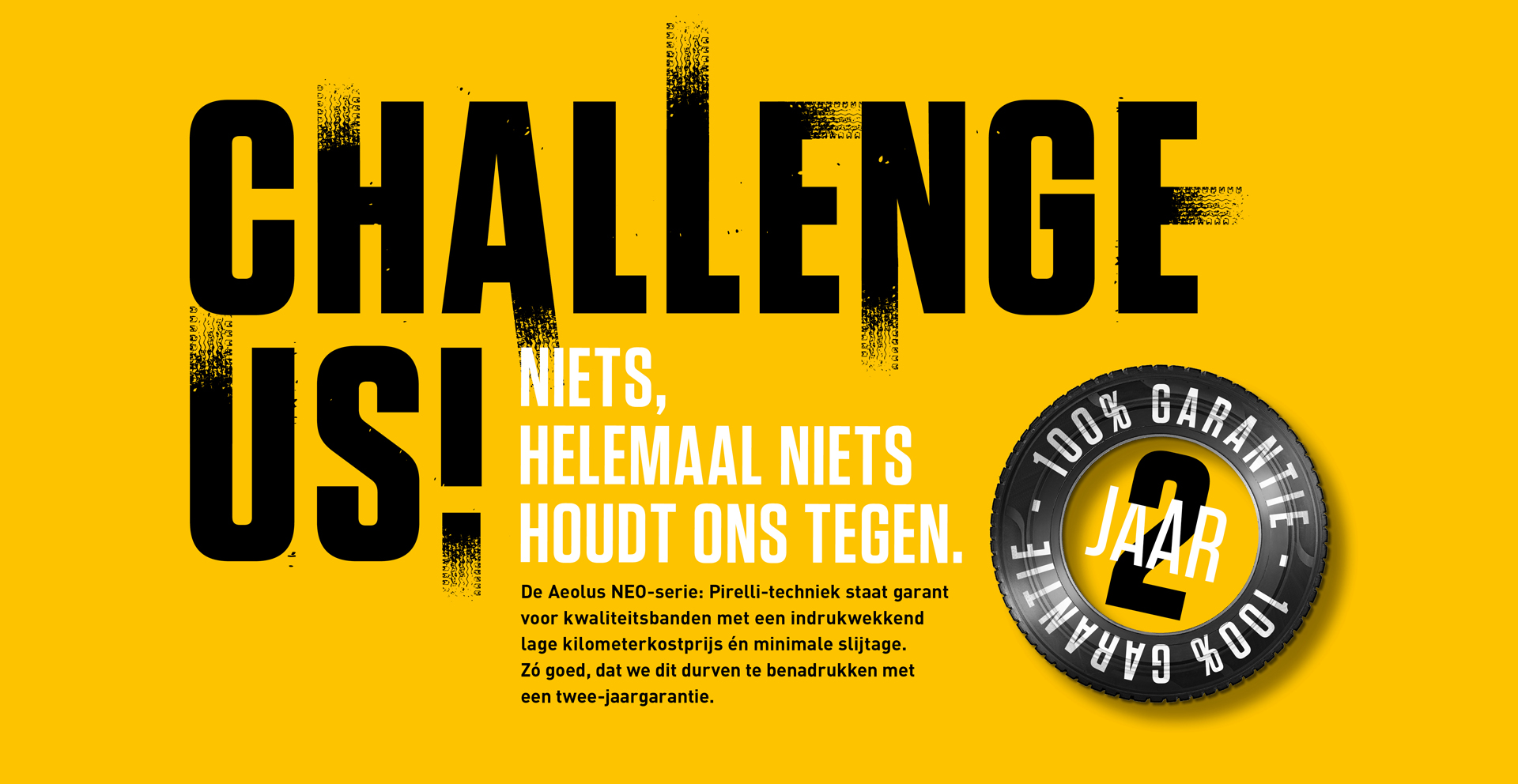 Aeolus has been proving itself in the tyre market for the past 15 years. Since 2016, tyres have been produced under license from, and with the know-how of, Pirelli. This has resulted in tyres featuring high-grade technology and a low price per kilometre. The tyres are so reliable that the factory is willing to offer an extra warranty, in addition to the standard factory warranty. This gives users peace of mind for up to 2 years after purchase: it will cost them nothing if tyres need to be repaired. Using the motto 'No Matter what', Aeolus has thus eliminated all risks for end users. This Aeolus warranty is only subject to two conditions: the remaining pattern must be at least 50% and the tyre must be impossible to repair. Aeolus will be using the 'Dare us. Challenge us.' campaign to launch its '100% 2 year warranty'.
Excellent alternative for premium brands
Product manager Jeroen Vos: "Naturally, you only offer such a warranty if you are absolutely certain about your product. We work very closely with our customers and regularly perform durability tests on our tyres. As a result, we have known for quite some time that our tyres perform very well and can compete with the premium brands. That is why Aeolus tyres have come with a casing guarantee and 24/7 roadside assistance for the past few years. The 100% warranty serves as an extra message to the market: Aeolus tyres offer an excellent alternative for premium brands."
High quality tyres featuring high-grade technology
The 100% warranty applies to the Aeolus NEO Allroads, Fuel and Winter series. These tyres have been specially designed for the day-to-day challenges encountered in the transport sector. The used technology includes a European rubber compound with high silicone content, for high kilometrage and better grip on wet surfaces. The SATT casing structure ensures uniform wear & tear and a long life-span. Furthermore, the tyres are ideal for retreading and renewal, which contributes to the low price per kilometre.

You can find Aeolus Tyres everywhere. Even in your neighborhood!